Posts for tag: gum recession
By Drs. Mellovitz & Grumet Dental Associates, L.L.C.
February 18, 2019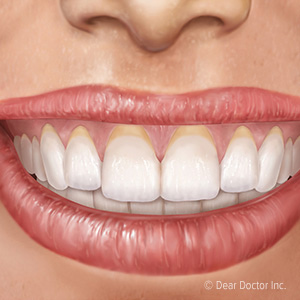 A "toothy grin" might be endearing, but not necessarily healthy. More of the teeth showing may mean your gums have pulled back or receded from the teeth. If so, it's not just your smile that suffers—the parts of teeth protected by the gums could become more susceptible to disease.
There are a number of causes for gum recession. Some people are more likely to experience it because of genetically thinner gum tissues. Over-aggressive brushing could also contribute to recession. But the most common cause by far is periodontal (gum) disease, a bacterial infection triggered by dental plaque accumulating on teeth mainly as a result of inadequate hygiene.
There are some things we can do to help heal and restore recessed gums, most importantly treating gum disease. The number one goal of treatment is to uncover and remove all dental plaque from tooth and gum surfaces, which can take several sessions and sometimes minor surgery if the infection has reached the tooth roots. But removing plaque and tartar (calcified plaque) is necessary to stop the infection and allow the gums to heal.
For mild recession, this may be enough for the gums to regain normal coverage. But in more severe cases we may need to help rejuvenate new tissue with grafting surgery. In these highly meticulous procedures a surgeon uses microscopic techniques to position and attach donated tissue to the recession site. The graft serves as a scaffold on which new tissue growth can occur.
While these treatments can be effective for reversing gum recession, they often require time, skill and expense. It's much better to try to prevent gum recession—and gum disease—in the first place. Prevention begins with daily brushing and flossing to prevent plaque buildup, as well as regular dental visits for more thorough cleanings. Be on the lookout too for any signs of a beginning gum infection like swollen, reddened or bleeding gums and see your dentist as soon as possible to minimize any damage to your gums.
Caring for your gums is equally as important as caring for your teeth. Healthy gums equal a healthy mouth—and an attractive smile.
If you would like more information on preventing gum recession, please contact us or schedule an appointment for a consultation. You can also learn more about this topic by reading the Dear Doctor magazine article "Gum Recession."
By Keith Mellovitz, DDS
October 07, 2017
If you've noticed some of your teeth seem to be "longer" than you remembered, it's not because they've grown. Rather, your gums have shrunk back or receded to expose more of the underlying tooth.
It's not just unattractive — gum recession could lead to severe consequences like bone or tooth loss. But before we begin treatment we need to find out why it happened. Knowing the true cause will help us put together the right treatment plan for your situation.
Here are 4 of the most common causes for gum recession and what we can do about them.
The kind of gum tissues you have. There are two kinds of risk factors: those you can control and those you can't. Because you inherited the trait from your parents, your gum tissue thickness falls into the latter category. Although there are degrees within each, gum tissues are generally classified as either thick or thin. If you have thin tissues, you're more susceptible to gum recession — which means we'll need to be extra vigilant about caring for your gum health.
Tooth position. Normally a tooth erupts during childhood in the center of its bony housing. But it can erupt outside of it, often resulting in little to no gum tissue growth around it. The best solution is to move the tooth to a better position within the bony housing through orthodontics. This in turn could stimulate gum growth.
Over-aggressive brushing. Ironically, gum recession could be the result of brushing, one of the essential hygiene tasks for dental health. Consistently brushing too hard can inflame and tear the tissues to the point they begin to recede. Brushing doesn't require a lot of force to remove plaque: use gentle, circular motions and let the detergents and mild abrasives in your toothpaste do the rest.
Periodontal (gum) disease. This, by far, is the greatest cause for gum recession: an infection caused by built-up bacterial plaque. The weakened tissues begin to detach from the teeth and recede. Gum disease can be treated with aggressive plaque removal and supporting techniques; but it's also highly preventable. Practicing daily brushing and flossing and regularly visiting your dentist for thorough cleanings and checkups are the best practices for keeping your gums as healthy as possible.
If you would like more information on gum recession, please contact us or schedule an appointment for a consultation. You can also learn more about this topic by reading the Dear Doctor magazine article "Gum Recession."