Posts for: March, 2014
By Keith Mellovitz, DDS
March 18, 2014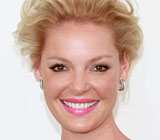 Many adults these days are opting for clear aligners to correct orthodontic problems that have long bothered them. Katherine Heigl is a perfect example. She had one tooth that was out of alignment, and wanted to have it fixed before her wedding day.
"I got them [clear aligners] because of this wonky tooth," Heigl told In Style magazine not long ago. "It's awesome because every two weeks you switch to a new retainer. Pretty much the perfect way to describe Invisalign is Netflix for your teeth."
That's actually a pretty good way to describe this highly user-friendly form of orthodontic treatment. Clear aligners are transparent, plastic oral appliances that are changed every two weeks so that your teeth can be moved a little bit at a time, according to a carefully staged sequence. Though they cover your teeth completely, clear aligners are barely noticeable.
In fact, when Heigl excused herself before taking out her aligners to eat, her In Style interviewer said, "Who knew you wore them? I guess that's the point of Invisalign."
Being able to remove the aligners for eating and, more importantly, teeth-cleaning, is another major advantage of this method of straightening teeth. Successful orthodontic treatment for adults depends on good periodontal health ("peri" – around; "odont" – tooth), and the best way to keep your gums and the underlying bone that supports your teeth healthy is to keep up an effective daily oral hygiene routine.
Clear aligners have been improved in recent years to correct more complicated malocclusions ("mal" – bad; "occlusion" – bite) than previously; they can even work well for teenagers. But there are still some cases that call for traditional braces. We would be happy to explore all the different options for orthodontic treatment with you, whether you have crowded teeth, an overbite or underbite, or just one "wonky tooth."
If you would like more information about clear aligners, please contact us or schedule an appointment for a consultation. You can also learn more about clear aligners in general by reading the Dear Doctor magazine article "Clear Aligners For Teenagers." Dear Doctor also has more on "Wedding Day Smiles."
By Keith Mellovitz, DDS
March 03, 2014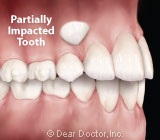 There are only a few teeth that are known by nicknames. The big, late-blooming third molars ("wisdom teeth") are one set; another set is the sharply-pointed canines, also called the "eyeteeth". These two sets of teeth have something else in common: They can both suffer from the failure to develop in the proper place. Impacted wisdom teeth are a well known problem; impacted canines, however, are an issue that's seen less frequently — but can often be effectively treated without extraction (removal).
What does the term "impacted" mean? In dental terminology, it indicates a tooth that is growing in a position where it can't erupt (grow in to the bite) properly. This sometimes happens in cases where the bite is "crowded" — that is, where there isn't enough space in the jaw for all of the teeth to develop properly. An impacted tooth remains "buried" to some extent in the tissues of the gums and jaw. It may eventually cause various problems with the roots of neighboring teeth, or even form a cyst (fluid-filled sac). That's why treatment of impacted teeth is so important.
Impacted third molars (wisdom teeth) are generally removed (extracted), and are rarely missed. Canines, however, are located near the front of the mouth, forming an important component of an aesthetically pleasing smile. Therefore, whenever possible, it's preferable to bring these teeth into good alignment with the rest of the smile rather than remove them. How is this done?
The process begins with a series of radiographic images (x-rays or CT scans) that show the exact positions of the affected teeth. Next, a minor surgical procedure, performed under local anesthesia, is used to expose the crowns (surfaces) of the impacted teeth. Then, a bracket is bonded to the surface of the tooth, which can be attached to orthodontic appliances. These appliances will, in time, move the tooth into a better position.
Impacted canines can be a serious problem — but the good news is that, with the proper treatment, it's often possible to bring them into alignment with the rest of your smile. If you would like more information about treating impacted canine teeth, call our office for a consultation. You can learn more in the Dear Doctor magazine article "Exposing Impacted Canines."