Posts for: February, 2014
By Keith Mellovitz, DDS
February 21, 2014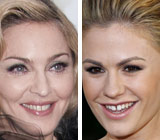 One's a singer who made her name playing New York clubs in the 1980's before catapulting to international pop stardom; the other's an actress from New Zealand who, in 1994, at the age of 11, became the second-youngest person ever to win an Academy Award. Both remain at the top of the A-list today. What other feature do Madonna and Anna Paquin have in common?
You guessed it — it's their teeth. Both have a small but noticeable gap between their two front teeth, known as a diastema. This condition is relatively common, and it's normally easy to treat — if that's something you'd like to do. But wait a moment… In certain African countries, this kind of smile is considered a sign of fertility; in France, they call it "dents du bonheur" (lucky teeth); some other cultures consider the gap a predictor of future wealth. So if you've already made this look work for you, there's no need to change it — even if you might need other cosmetic dental work.
The "perfectly imperfect" smile has become an increasingly popular option for people having veneers, cosmetic bonding, or even dental implants. Some trend-watchers have even noted a pushback against the ideal of a completely even, flawless, Hollywood-white smile. Does that create a problem at the dentist's office?
Absolutely not! We call the process of figuring out how your teeth should look "smile design" — and it's as much an art as a science. When we're just beginning to design your smile, we look at a number of features — including the size, shape, color and alignment of your teeth, the position of your lips, the amount of gums exposed, and the relationship between your smile and your other facial features. We're also listening carefully to you: what you like and don't like about your smile, how you think it could be improved… and what should stay just the way it is.
Of course, before doing any cosmetic work, we will always perform a complete dental exam to detect any underlying condition and determine what treatments are best. Then, we will work with you to help you get the smile you've always wanted. Not sure exactly how it will look when it's all done? Ask us for a preview — from computer-generated pictures to actual 3-D models, we can show you how your new smile will enhance your appearance.
So if your smile needs a little help to look its best — but you still want it to be uniquely yours — maybe now is the time to come in and see us. If you would like more information on smile design, please contact us or schedule an appointment for a consultation. You can learn more in the Dear Doctor articles "The Impact of a Smile Makeover" and "Beautiful Smiles by Design."
By Keith Mellovitz, DDS
February 05, 2014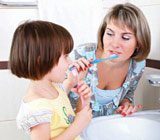 All children encounter sickness as they grow; thankfully most of these conditions are relatively mild and fade away in short order. But some children endure more serious, longer lasting conditions. The health of children with chronic diseases can be impacted in numerous ways, including the health of their teeth and gums.
Unfortunately, dental care is often pushed to the side as caregivers understandably focus on the primary disease. In addition, many chronic conditions involving behavior, such as autism, attention deficit and hyperactivity disorder (ADHD) or intellectual disabilities, may inhibit the child's ability to cooperate with or even perform daily oral hygiene. Many special needs children have an acute gag reflex that makes toleration of toothpaste, spitting matter from the mouth, or keeping their mouths open more difficult. However difficult it may be, though, it's still important to establish daily hygiene habits to reduce the risk of tooth decay and gum disease.
There are techniques for building a daily routine for children with physical and behavioral limitations. For example, using "modeling and shaping" behavior, you (or perhaps a sibling) brush your teeth with your child to demonstrate how it should be done. If there's a problem with cooperation, you can also position the child "knee to knee" with you as you brush their teeth. In this way you'll be able to meet their eyes at a level position and lessen the chance of a confrontation.
We encourage all children to have their first dental visit before their first birthday. This is especially true for children with chronic conditions. The Age One visit helps establish a benchmark for long-term care; it then becomes more likely with regular visits to discover and promptly treat dental disease. This is especially important for special needs children who may have congenital and developmental dental problems, like enamel hypoplasia, a condition where the teeth have not developed sufficient amounts of enamel.
Teeth are just as much at risk, if not more so, in children with chronic diseases. Establishing daily hygiene and regular checkups can reduce that risk and alleviate concern for their long-term oral health.
If you would like more information on oral healthcare for children with chronic diseases, please contact us or schedule an appointment for a consultation. You can also learn more about this topic by reading the Dear Doctor magazine article "Managing Tooth Decay in Children With Chronic Diseases."